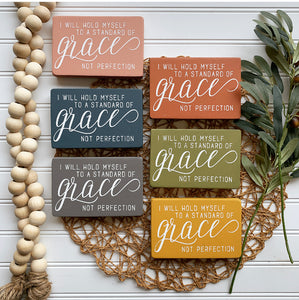 3.5"x5.5" - These are mini signs - perfect for a shelf or small counter or nightstand space.  They do not come with hanging hardware, but can easily hung with a small command strip if desired.  
Various Color Backgrounds
White Lettering 
For customized options, please complete the Custom Order Request Form and Deposit 
Perfect Piece
I bought this sign for my at-home work desk. It's the perfect size and best reminder. These mini signs are one of my favorite items.
Excellent Quality
I LOVE this sign! It's beautifully made and a perfect reminder for the perfectionist in me!